Campaign to tackle loan sharks in Worcester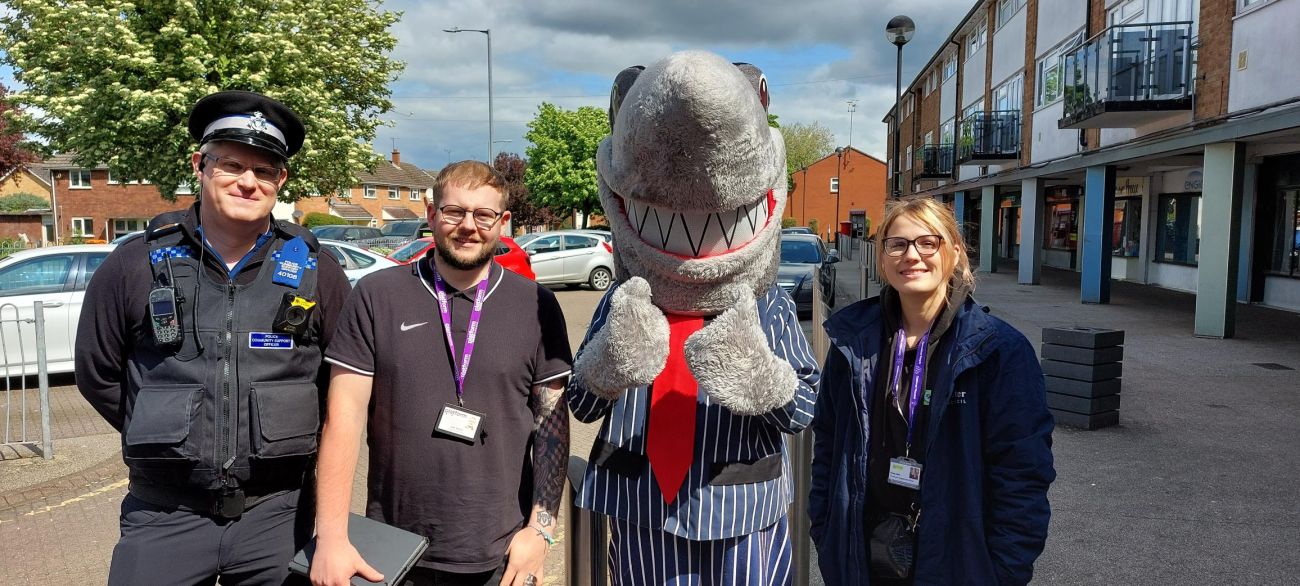 Above: (from left to right) PCSO Mike Exon, Platform's Neighbourhood Officer, Alex Nuthall, Sid the Shark and Aimee Allen from the Safer Worcester team are pictured out and about in Worcester, raising awareness about loan sharks.
Platform Housing Group is lending its support to a local campaign aiming to help tackle loan sharks.
A week of action is being held in Worcester from 15th to 24th May to raise awareness of illegal money lending and signpost victims to support outlets.
The campaign is the result of a partnership between the England Illegal Money Lending Team (IMLT), Platform Housing Group, Worcestershire County Council and West Mercia Police.
During the week, officers from all partner agencies will be available to speak to residents about illegal money lending and provide advice and support as well as promotional material at the following locations:
15th May 11am – 2pm Cranham Parade Warndon WR4 9PA
18th May 11am – 2pm Lichfield Avenue Ronkswood WR5 1NW
23rd May 11am – 2pm Gresham Road Dines Green WR2 5QS
24th May 11am – 2pm Rose Avenue. Tolladine WR4 9QN
The campaign's mascot, Sid the Shark, will also make an appearance to raise awareness of the issue and provide safety information and advice.
Tony Quigley, Head of the England Illegal Money Lending Team, said: "We know that illegal money lenders operate in communities and that they exploit the most vulnerable people. The campaign aims to raise people's awareness of the problem and let them know where to go for help and support.
"We encourage anyone who has been targeted by loan sharks or who has concerns about someone they know to please get in touch. We have helped over 30,000 people affected by this crime get their lives back through specialist support."
Loan sharks are unregulated, often give cash loans without any paperwork and charge extortionate interest rates. In most cases, victims are introduced to the lender either through a friend, family member or because they are known in the community.
They may offer what appears to be a quick-fix small loan but in the long term, any money borrowed will come at a very high price and may lead to violence, threats and intimidation.
Platform Housing Group's Chief Operations Officer, Marion Duffy said "Platform Housing Group is delighted to be working in partnership with the England Illegal Money Lending Team, to raise customer awareness about the dangers of borrowing money from loan sharks, during our Communities Connected events."
If you have been affected by illegal money lending, call the Stop Loan Sharks 24/7 Helpline on 0300 555 2222 or access support online at www.stoploansharks.co.uk. Live Chat is available on the website from 9am to 5pm, Monday to Friday.