Platform is turning up the volume on their Customer Voice to improve services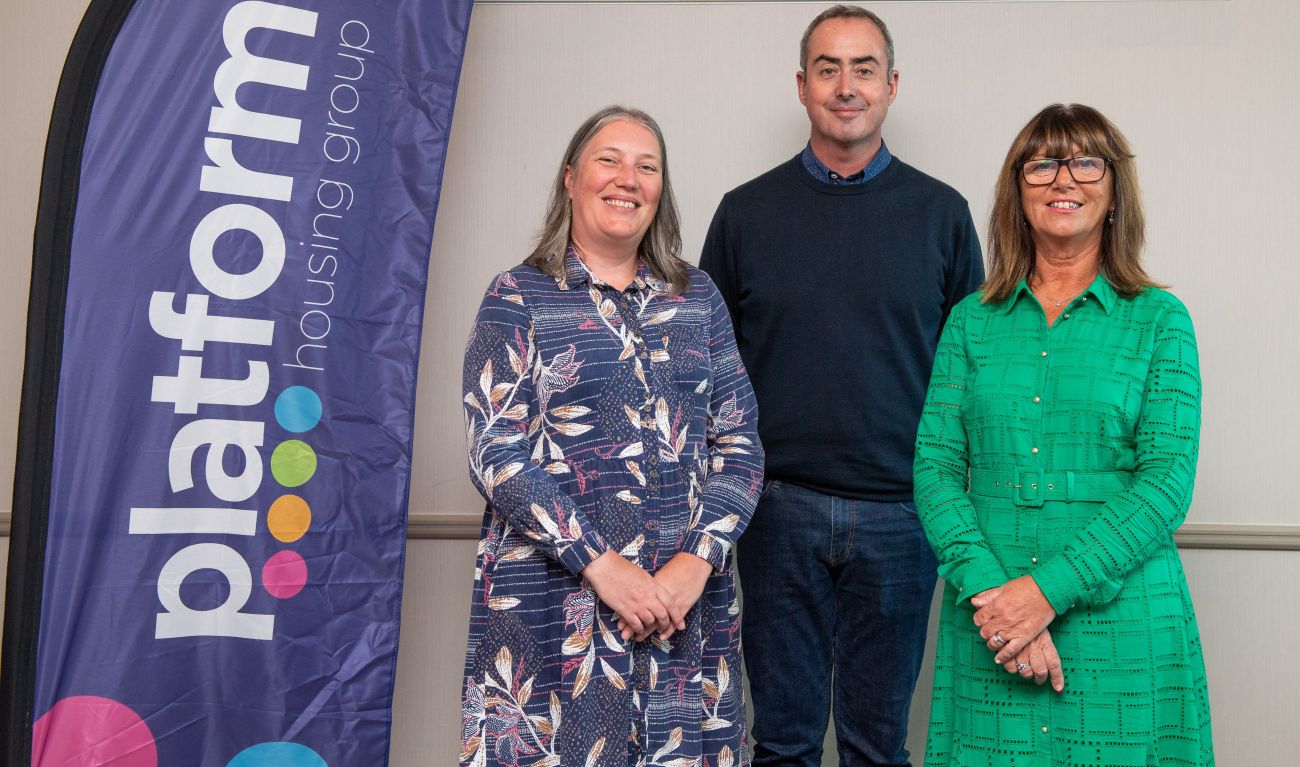 Platform recently hosted a Customer Voice Conference to bring together involved customers, colleagues and partners to explore their new, innovative approach to customer engagement and launch their new Customer Voice Panel.
The day highlighted how instrumental customer involvement and feedback is to bring about change and service improvements and included presentations from Kate Dodsworth, Regulator of Social Housing and Emma Gilpin from Tpas, who reinforced the vital strategic role that involved customers play to make sure that housing association homes are safe, secure and well maintained.

Marion Duffy, Platform Housing Group's Chief Operations Officer said, "It was great to bring everyone together to discuss how crucial it is that we listen to our customers' views and explore how our new Customer Voice Panel will strengthen our existing involvement structure, work at a more strategic level and provide even greater scrutiny, so they can challenge and influence the way we engage and deliver services to our customers.
"There was a lot of discussion about the ever-changing landscape of the housing sector and the importance of the customer voice in Platform's strategic governance framework to ensure that their views and feedback influence and improve our services, as reflected in the Social Housing (Regulation) Act 2023 and the Better Social Housing Review."
The conference brought together Platform's current Scrutiny Panel members and their new Customer Voice Panel to look at how they will work together, alongside board members and colleagues, discuss the challenges the social housing sector is facing, along with the introduction of the Tenant Satisfaction Measures (TSMs), which are a key part of the Regulator for Social Housing's new Consumer Standards.

Emma Gilpin, National Consultancy Manager at Tpas said: "I was really pleased to be invited to Platform's Customer Voice Conference to share what Tpas offers to all of Platform's staff and customers as one of our 314 valued landlord members.

"I was privileged to also share some thoughts and facilitate discussion about how customers can be really effectively involved in scrutiny and governance. It was brilliant to see the skills, knowledge, commitment and enthusiasm on display in the room, Platform has clearly got all the ingredients for the new structure to be a great success!"

New Customer Voice Panel member, Caroline Marion summed up the success of the day: "From the welcome at the door to the farewell it was well organised, informative and friendly. The Platform team made everyone feel they were integral to the day and the information shared throughout the conference was interesting and more importantly did not overload."

If you are a Platform customer and would like to represent the voice of all customers, to help shape and improve services, you can find out more and register your interest here.
Listen to our Involved Customer podcast recorded on the day!
During the conference we recorded a podcast which includes interviews with Amber Woodfull, our Customer Engagement Manager, Emma Gilpin, National Consultancy Manager at Tpas and a number of our Customer Voice Panel members. Click on the link below to listen:
https://player.captivate.fm/episode/d3236f05-f2e8-417c-943b-29b15d008774

Photo caption: (left to right) Emma Gilpin, Tpas' National Consultancy Manager and Platform Board member and Customer Voice Panel Chair, Lou Zonato are pictured with Platform's Chief Operations Officer, Marion Duffy.